Transportation Cedar Brook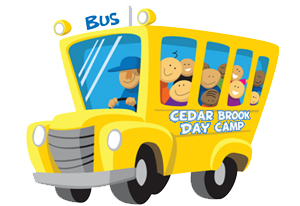 Is transportation included in camp tuition?
We keep camp tuition low by allowing parents to drop-off and pick-up at camp. If you select our Parent Transportation option, then there is no additional charge.
While transportation is not included, we do offer 2 additional transportation options for an additional fee. These options include Before and After Care and Door-to-Door Busing. Transportation options must be selected for your entire enrollment period.
Parent Transportation
The Enrollment Fee for camp is for parent drop-off and parent pick-up at camp. Parent drop-off is from 8:25-8:40 am and pick-up is from 4:00-4:30 pm. If you opt for Parent Transportation and pick-up and/or drop-off within the 15-minute window, then there is no additional charge.
Before and After Care
We offer extended hours for families that are not able to be at home for the bus during normal pick-up or drop-off times. These campers may be dropped off at camp between 7:00am - 8:30 a.m. and picked up between 4:30 pm - 6:30 p.m. Staff are present to supervise the campers. There is an additional fee for Aftercare and Beforecare.  Additional Fee per camper for Extended Hours (7:00-9 am and/or 4:30-6:30 pm): $25 for mornings and $25 for afternoons per week ($100 for 4 weeks for afternoons). We also offer mornings and afternoons as a package for $40 a week.
Door-to-Door Bus Transportation
Door-to-door, air conditioned van service is available within our service area. We use only modern, DOT-inspected, seat-belted buses and vans. Every driver has a New Jersey commercial drivers license (CDL). Every driver must have a drug test, a background check and medical physical. In addition, an Cedar Brook staff member is on every vehicle to ensure safety. This staff person, also called a bus counselor, will greet you every morning and afternoon while picking up and dropping off your child. We provide door-to-door transportation throughout Somerset and Middlesex County. Please note that not all of Middlesex County will be covered. The additional fee for door-to-door transportation is $50 per child per week, as follows:
2 weeks of camp: $100
3 weeks of camp: $150
4 weeks of camp: $200
5 weeks of camp: $250
6 weeks of camp: $300
7 weeks of camp: $350
8 weeks of camp: $400